Ok so finally am done, while uploading this am seriously very proud... and happy... coz i think i have out done my self :)
well the orignal request was:
Q1:Theme of the template?
c: Personal

Q1a: Any specific thing in the template?
Ans: No.

Q2: favorite color?
Black


Q3: What do you want the colors in your template be comprised of?
c: Contrasting Colors
Q4: Do u have any specific image u want me to use in it ?
No.


Link to her blog:
http://anushayqaiser.blogspot.com


And so, i did lots of experiment and took lots of time (you'll agree to this) but i have finally come up with something which would look nice... so check it out: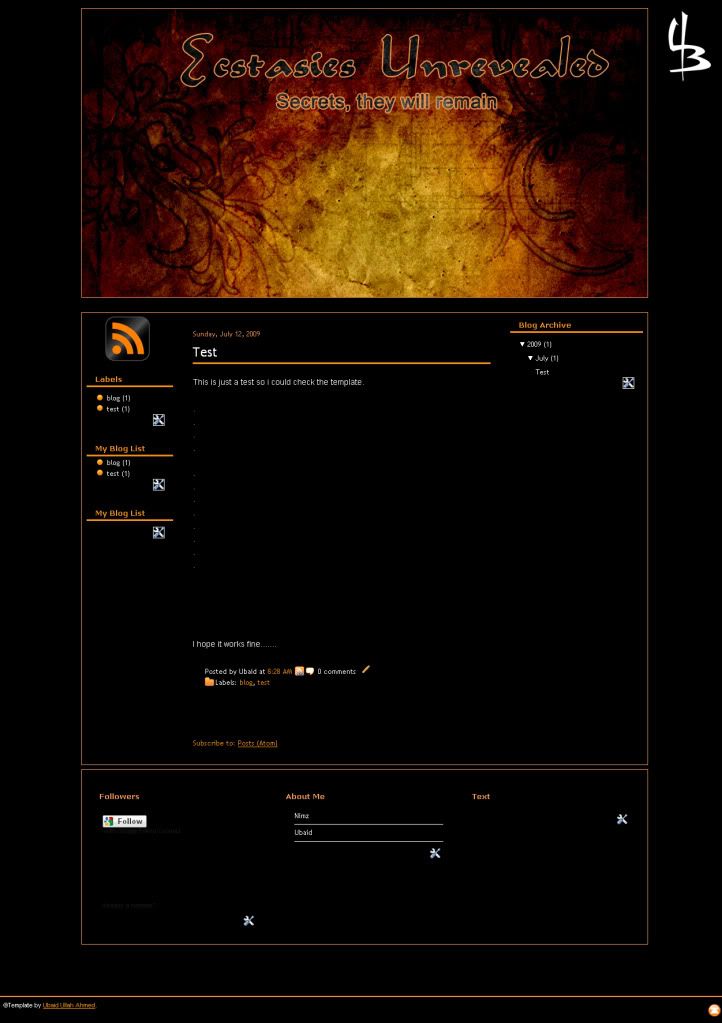 This template is completely color compatible, every color present in the template can be changed according to the image. So this gives you option to use variety of banners and try different style using the same base.
And Anushay i did make 5 further options for banner, which i won't give you now, but definitly with time i'll give you those, coz if i give you now to be honest you won't appreciate this one... So use this for few days, then i'll help you change it's complete color and the banner :)
TO DOWNLOAD THE TEMPLATE PLS CLICK ON YOUR NAME BELOW:
Anushay Template 1
I hope you like it, and if you have any query, or you need help, you know where to get me.
Regards,
Ubaid (ubeee)